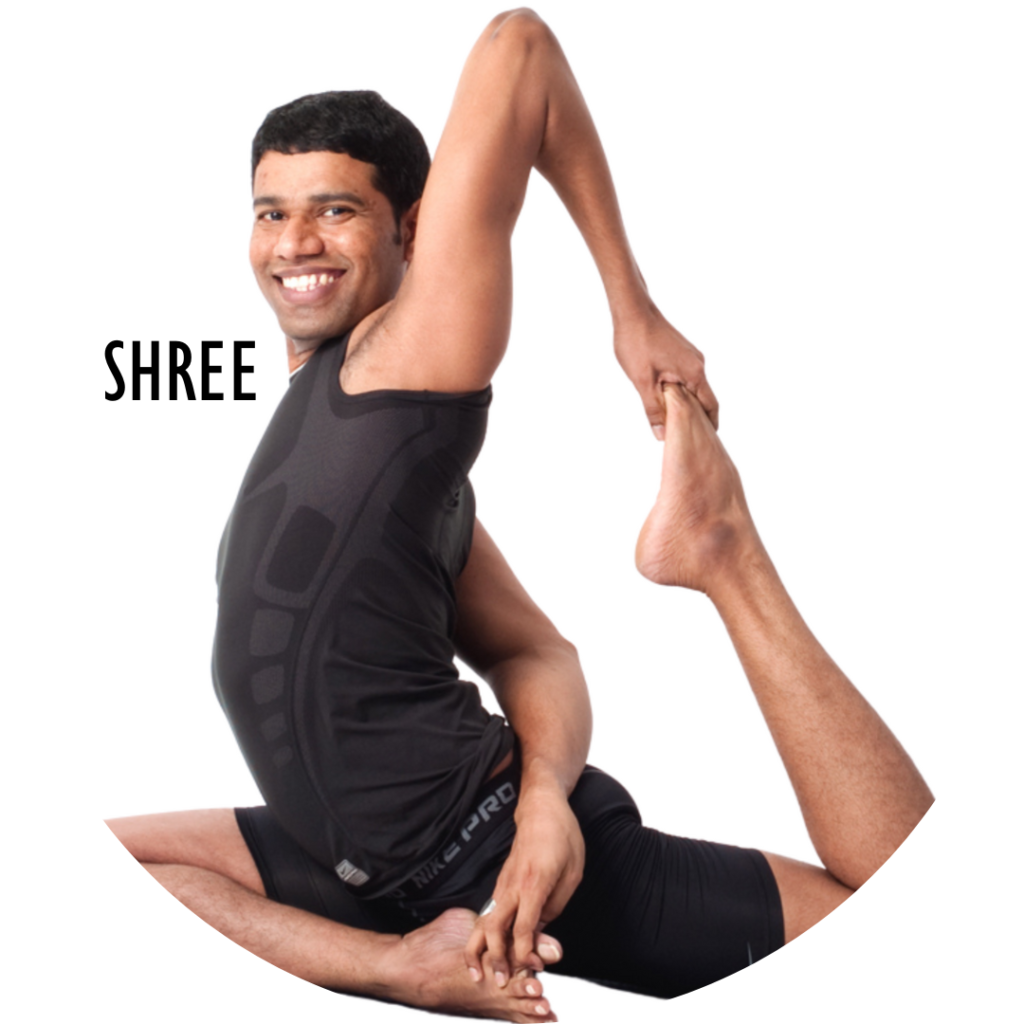 Master Shree has an exceptional intuitive ability to help his students improve in their practice by adjusting their postures and alignment. He started his career as a Yoga Therapist before progressing on to become a Yoga Trainer. He has taught in studios across Asia and gained years of experience in India, Thailand, and Hong Kong before arriving in Singapore in 2009.
Since founding Masters' Yoga Sadhan in 2012, Master Shree has designed and vetted all the class sequences at the studio to ensure maximum efficacy and best results for our students.
He also runs the Yoga Teacher Training program at MYS, through which all of the current instructors at the studio have been trained.
Master Shree has been awarded Yoga Siromani (Jewel in the Crown of Yoga) and Yoga Acharya (Master of Yoga) from Sivananda Yoga Vedanta Centre.
Master Shree is also a certified Pranic Healer through which he actively practices crystal and chakra healing. He also teaches pranayama as well as mindfulness and meditation practices that lead students to a more 'yoga way of life.' With an unusual level of discernment combined with warmth and humour Master Shree has an ability to give sound advice to all those who ask him for it. As a result, Master Shree has also become a Life Coach and Counsellor to many at Masters' Yoga Sadhan.
He has also qualified as:
–        Certified Yoga Therapist from Sri Venkateswara Naturecure & Yoga Health Center
–        Certified Hatha Yoga Master from Sivananda Yoga Vedanta Centre, Himalayas, India
–        Certified Ashtanga Vinyasa Yoga Master from Sthalam 8 Ashtanga Yoga Shala, Mysore, India
–        T.T.C Ashtanga Vinyasa Yoga Philosophy from Master B.N.S. Iyengar (Disciple of Master T. Krishnamacharya)
–        Ashtanga Vinyasa Yoga Teacher Training, from Mysore, India
Master Shree is also certified in Naturopathy Therapy, Ayurvedic Massage and Panchakarma Therapy. With his keen interest in the fitness field he is also a certified Muay Thai instructor.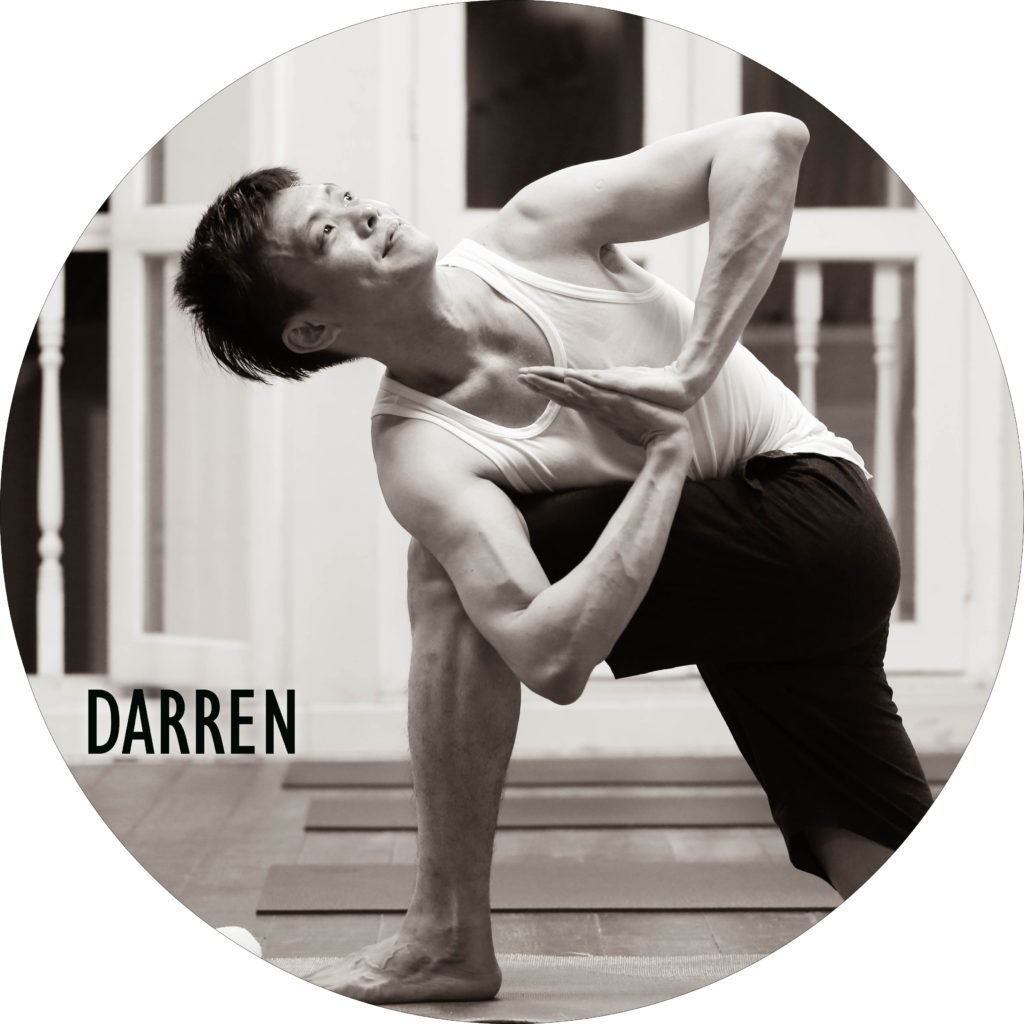 Darren credits an hour of daily yoga practice with many benefits to his life, including helping him to calm his mind and release stress and tension. He believes yoga has also helped him to regulate and become more aware of his breath and the health of his physical body.
He is inspired by the restorative effects of yoga and he enjoys helping his students to realise such positive changes to their minds and bodies.
Darren has been a regular practitioner of yoga since 2015 and certified as an instructor in 2016. 
He enjoys doing sun salutations as a both a practice in itself and as full body warmup before using yoga wheels for supporting deep back bends and wall ropes for inversions. Other practice essentials for Darren include breathing exercises and mediation.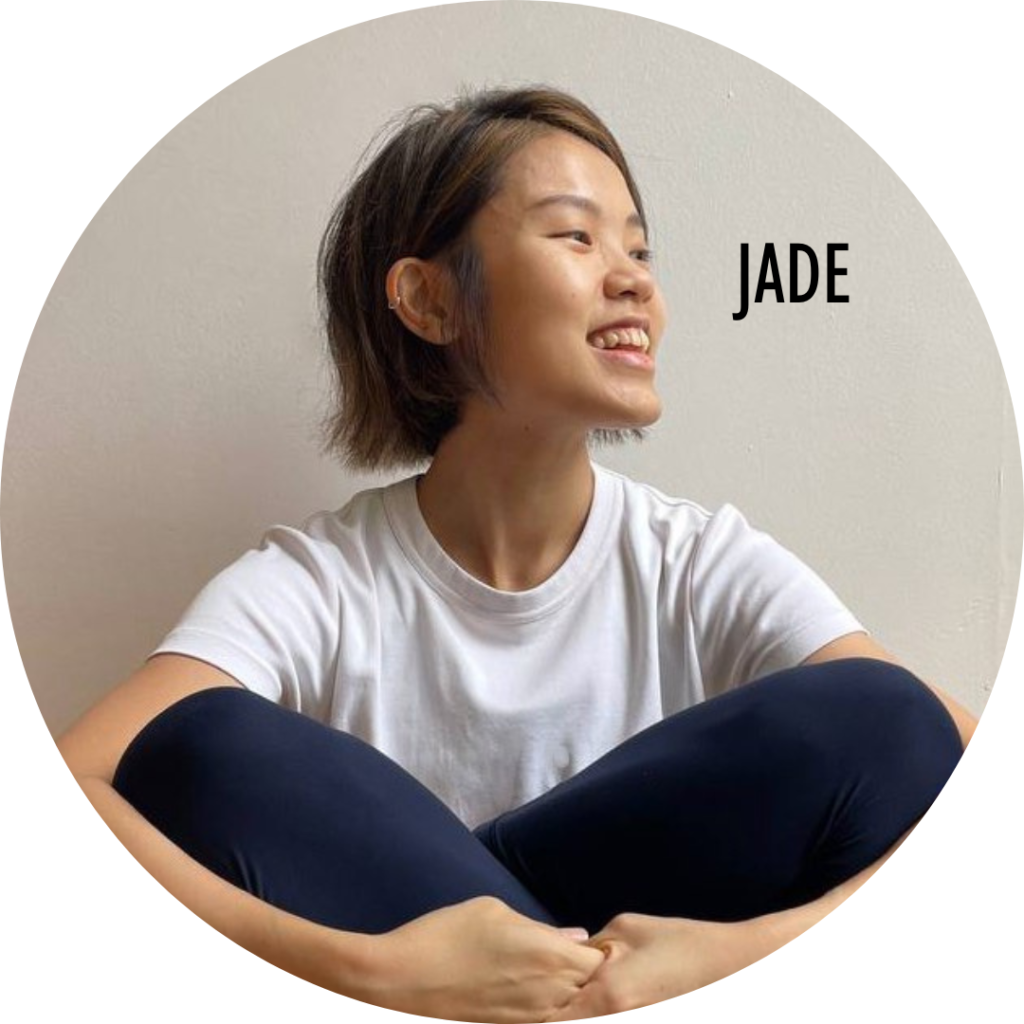 Before discovering yoga, Jade was an avid equestrian and enjoyed riding horses for years. Since then yoga has become the second exercise that she has been doing the longest – five years and counting!
After graduating from the Masters' Yoga Sadhan 200-hour YTTC program, Jade was a regular practitioner at the studio and enjoyed dynamic, physically challenging flow-based classes such as Sun Series although nowadays she has grown to enjoy Ashtanga and Ashtanga-style class. For Jade, yoga goes beyond physical stretches… it has become a journey of self-learning and discovery.
Teaching brings Jade joy as she enjoys seeing her students in the flow of class and pushing themselves to their limits. Off the mat, Jade's hobbies include running outdoors and experimenting in the kitchen.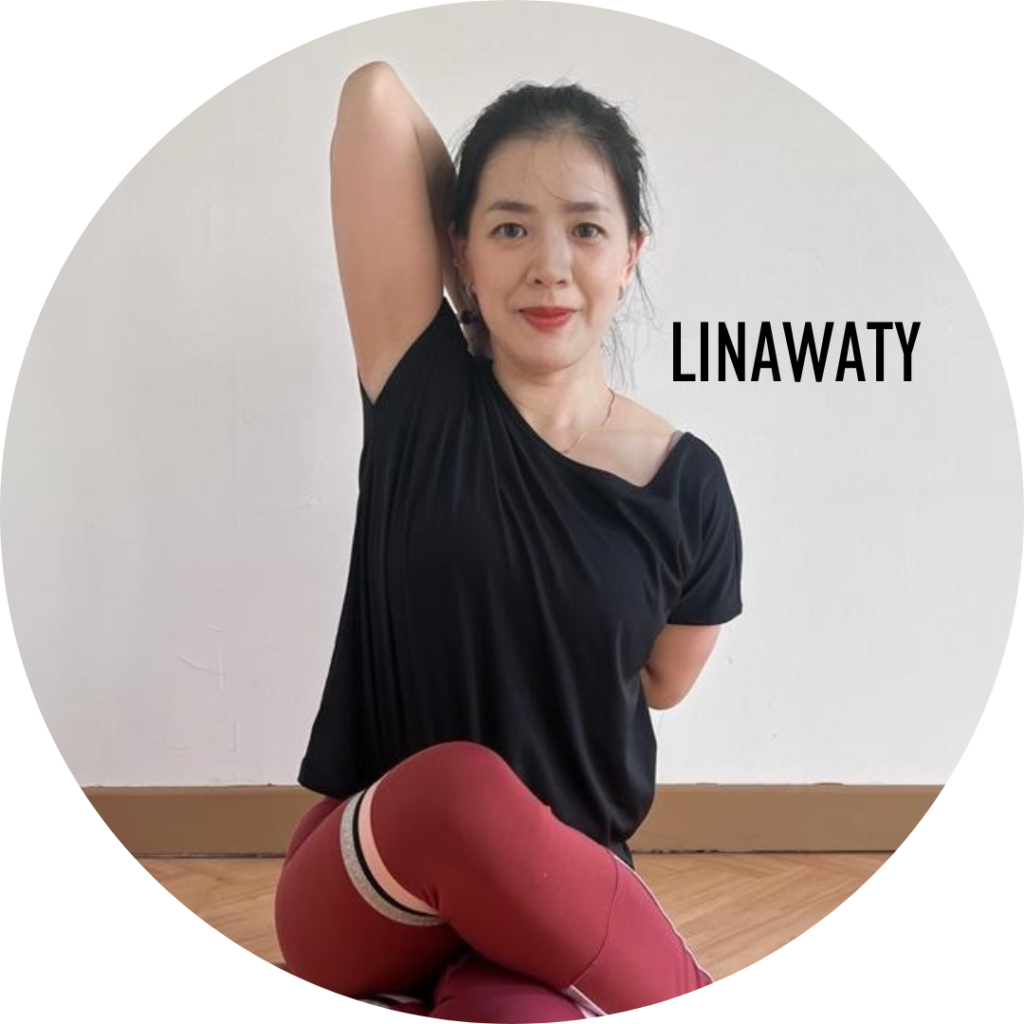 Linawaty still remembers how inadequate she felt when she attended her first yoga class back in 2014, and how much time she used to spend worrying about whether she was doing her poses right. However, she persisted and with time and practice her mindset gradually changed and today she finds herself happily owning her imperfections.
In 2020, with the encouragement of her teacher, Master Shree, she joined the MYS Yoga Teacher Training Course to deepen her knowledge of yoga and through it, began to appreciate that yoga is so much more than just the poses.
Be sure to check out her favourite yoga classes such as Deep Stretch, Wall Rope, Hatha and Healthy Hips that feature a mix of strengthening and stretching poses.
Motto: "Practice with acceptance and focus on how I feel, not what it looks like."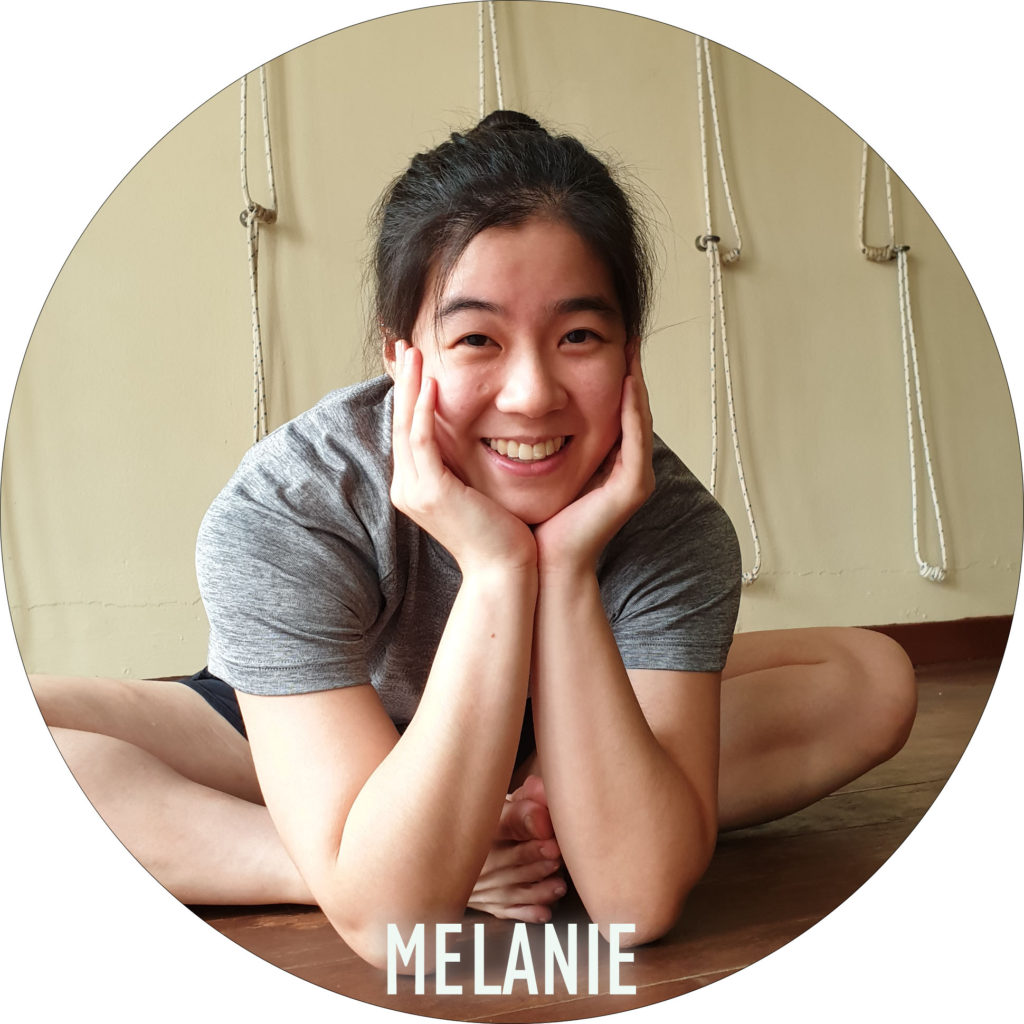 Melanie claims to be just your average human being who loves to eat, and hence has to exercise more!
She has been practising yoga since 2016. After starting out as a student at MYS, she decided to deepen her learning by signing up for the studio's Teacher Training Course in 2018. The learning curve since then has been immense, and she has discovered for herself that more than just postures- yoga is also a way of life.
With so many sources of stress in our everyday lives, she hopes that her class can be a space for students to leave their worries outside the door, practice, sweat, and leave feeling refreshed and strong enough to face their next challenge!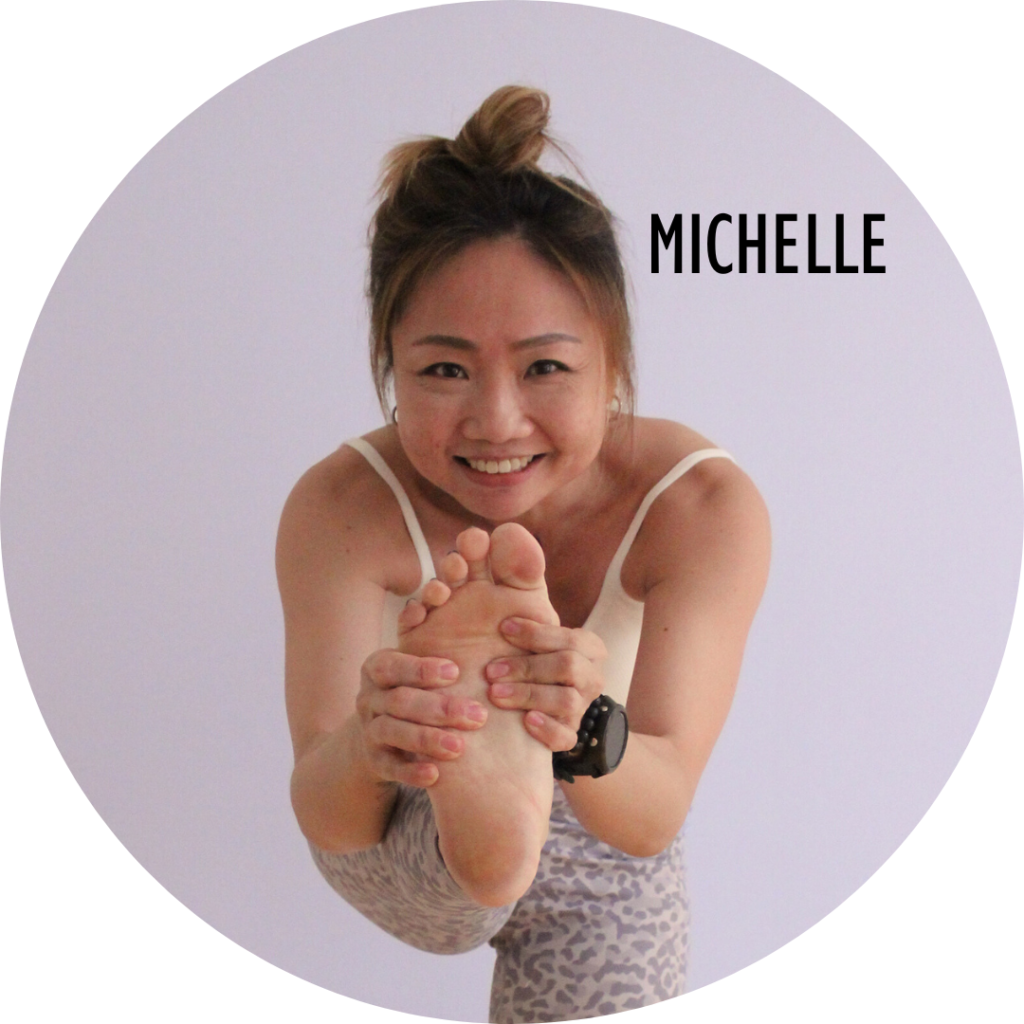 Michelle started practising yoga in 2011 with a view to finding an alternative form of exercise and injury rehabilitation. Since then, she has discovered that more than a recovery source or a fitness routine, yoga is a guide to living.
Michelle enjoys connecting with people through teaching and strives to support her students' journeys of self-discovery through helping them overcome their limitations and building their confidence.
Michelle has an active, high-energy personality and the classes she leads are a reflection of that. Her preferred class style is a dynamic and energising vinyasa, or flow.
Michelle has also completed a 200-hour Advanced TTC at Masters' Yoga Sadhan and is also a certified Sports Massage Therapist, providing her with a wider knowledge base and skill set to help calm the mind and body.
Favourite Quote: "It's not about what You cannot do, but about all You can do." – Sadhguru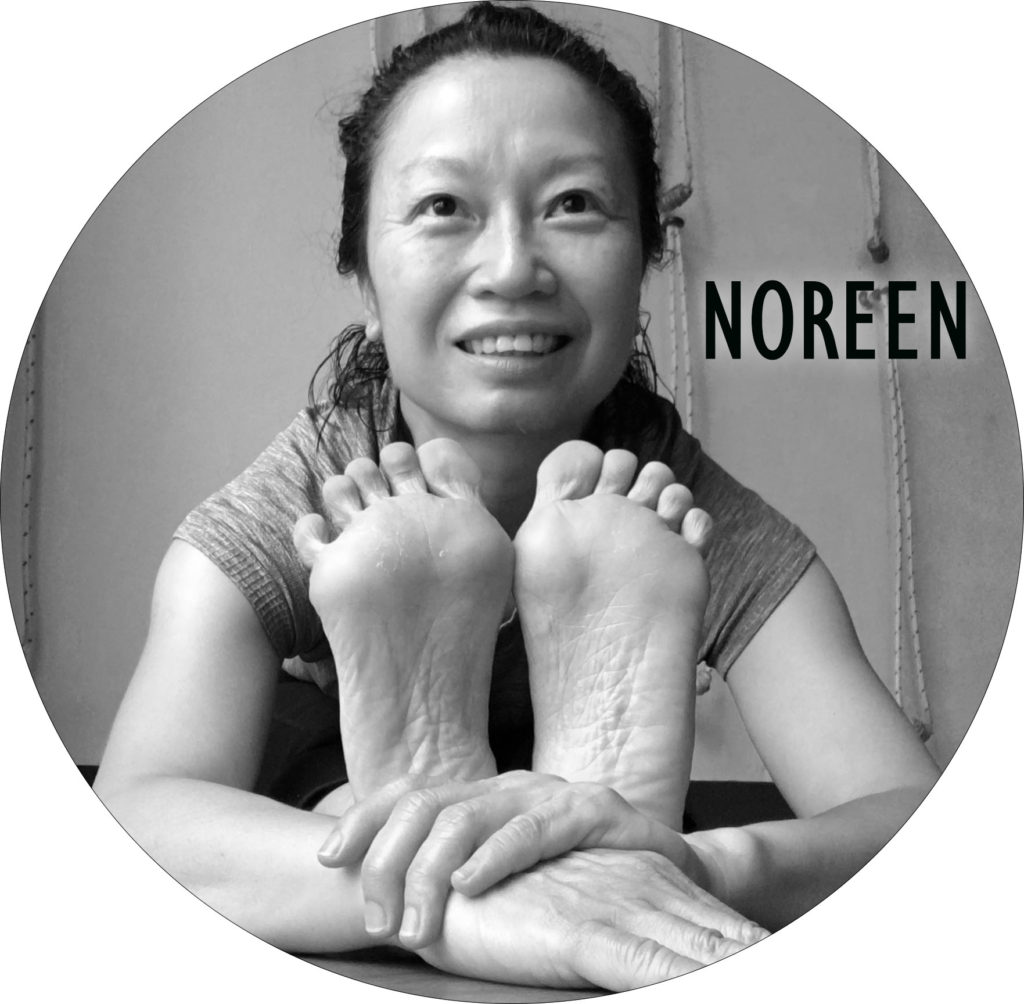 Noreen took her first yoga class after deciding that she needed something healthy to do after years spent working late nights and doing 'zero exercise'. Inspired by her instructor, she continued practicing until she signed up for her first instructor course in 2009. Since then, she has taken multiple teacher training courses including a 500-hour Ashtanga Yoga TTC at Tattva Yogashala Rishikesh and a 200-hour Advanced TTC at Masters' Yoga Sadhan.
Noreen's no-nonsense approach to teaching is a reflection of her personal philosophy, 'Speak less, do more.' Her classes are strong and designed to challenge. Noreen also uses alignment and adjustment in her group as well as private classes, and is a firm believer that this hands-on approach can greatly help students in their practice. Helping students progress in this way gives Noreen a great sense of achievement.
Favourite pose: Headstand… because it makes me smarter and look younger!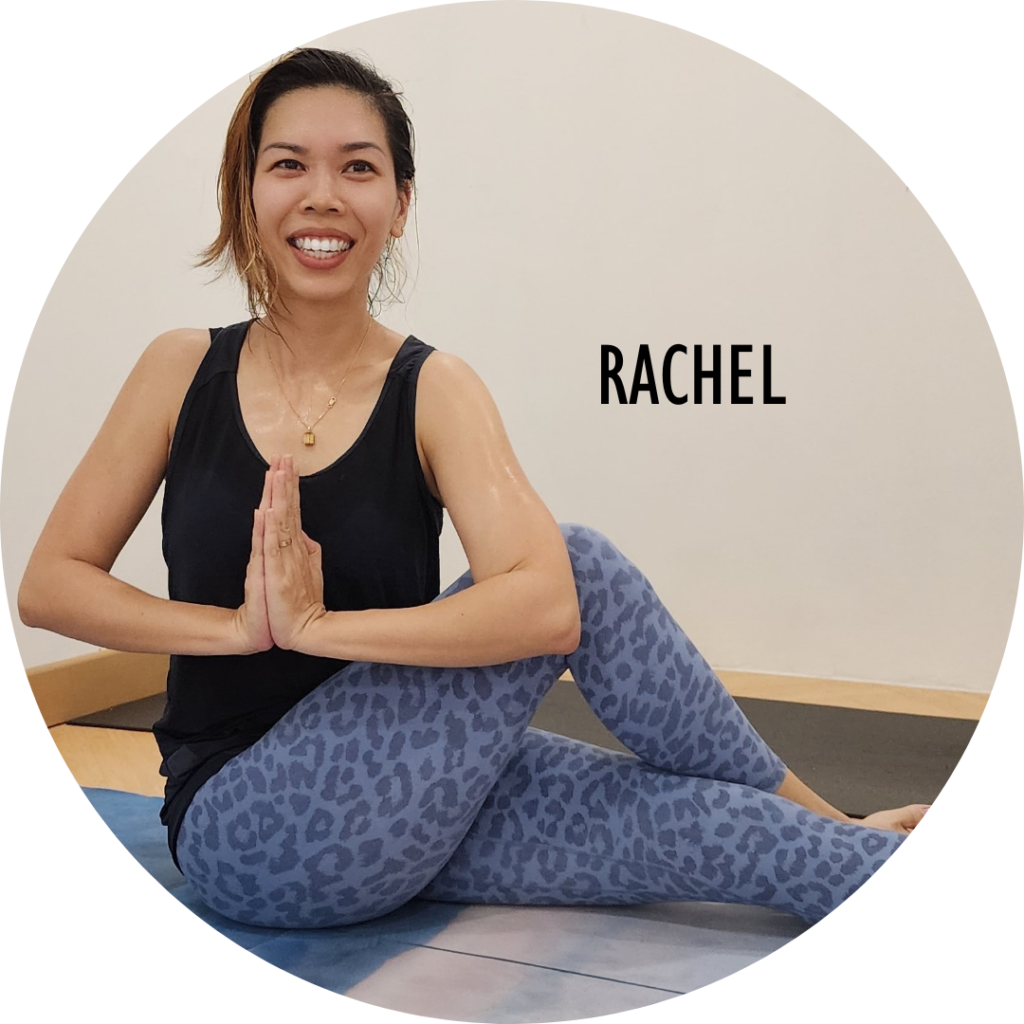 After a decade of practice, Rachel was excited when the opportunity to take a teacher training course at Masters' Yoga Sadhan came along in 2019. Despite being pregnant at the time she successfully completed the course and within 3 days of graduating, gave birth to her third child!
For Rachel, yoga works for the mind as well as the body by helping practitioners to overcome daily stress through simple mindfulness. As your yoga teacher, Rachel hopes to create the space for you to learn and experience for yourself what a regular yoga practice can offer.
Her personal practice ranges from easy hatha to vinyasa flow to challenging bikram. The classes she teaches are accessible to beginners as well as advanced as she offers options suited to the level of each student.
Motto: There is always a first time and one day you will be able to touch your toes!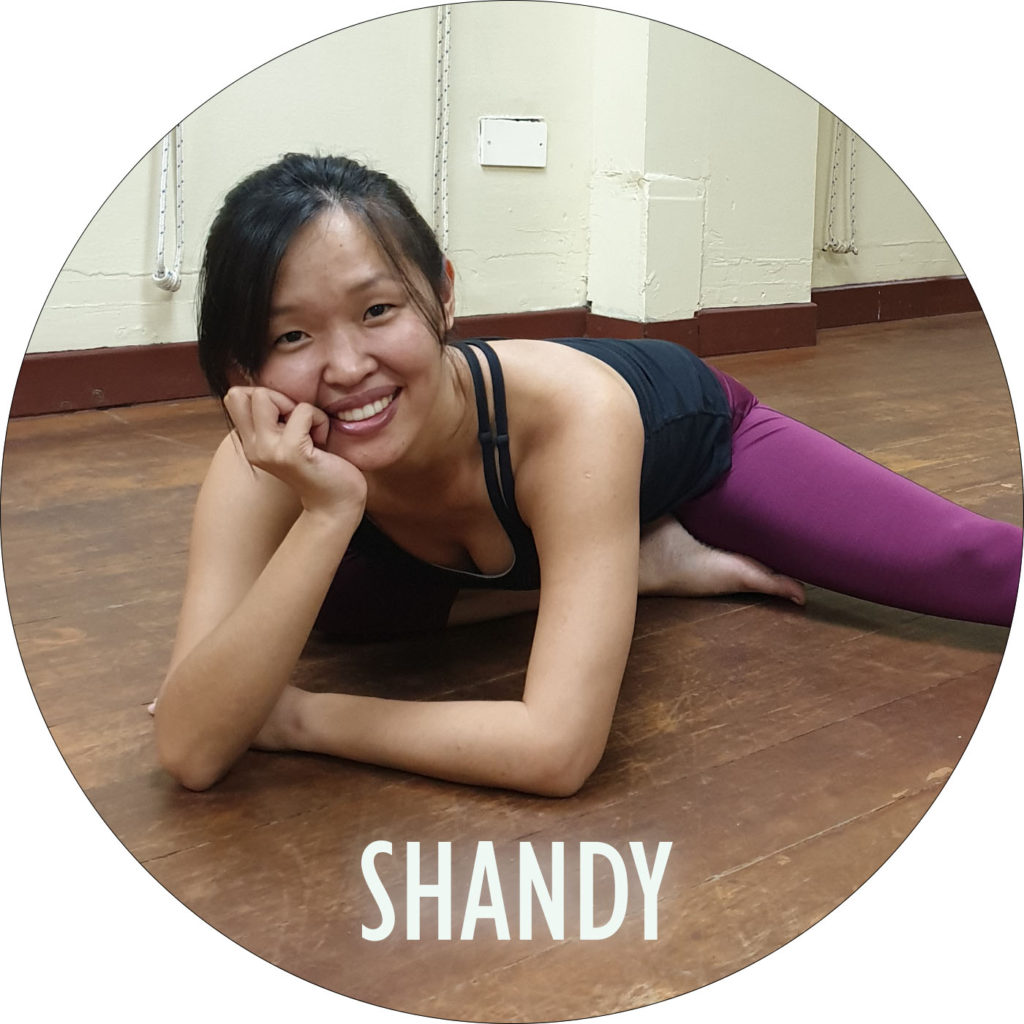 Since Shandy started practicing yoga in 2011, she has experienced first-hand its therapeutic effects as it helped her to recover from various injuries including severe leg pain and carpal tunnel syndrome. As a result, Shandy is a big proponent of yoga as a healing and restorative practice and her teaching style reflects this. Shandy trained as a Yoga Therapist in 2019 and received her Advanced Teacher Training certification under Masters' Yoga Sadhan in 2020. Her favourite classes are Healthy Back, Hot Basics, Wall Rope Yoga and Hot Yin Yang.
Having personally experienced the benefits of yoga practice many times, Shandy would love for you to join her on the mat and start the journey towards experiencing a pain-free life.
Off the mat, Shandy also loves painting and you can see one of her artworks on display at the studio.
Motto: All the answers you need are within you.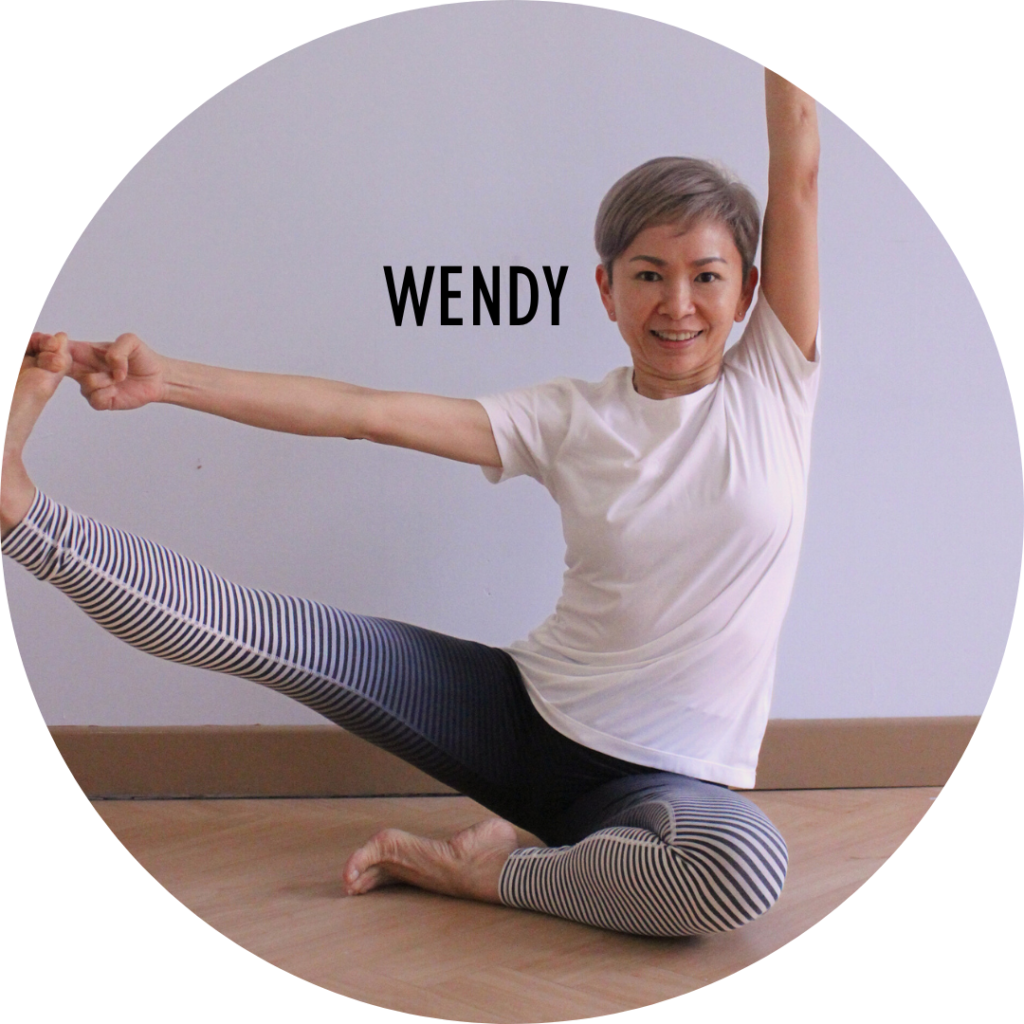 Wendy is an instructor with a passion for helping people find their inner peace and strength through yoga. She has been practicing yoga since 2017, and has found that it has helped her to improve her flexibility, strength, and mental clarity. She is excited to share her love of yoga with others and to help them experience the same benefits that she has.
She is a firm believer that yoga is for everyone, regardless of age, fitness level, or experience. Her classes are designed to be accessible to all levels of students, and she offers modifications for those who need them. Wendy also focuses on creating a supportive and welcoming environment in her classes, so that everyone feels comfortable and safe.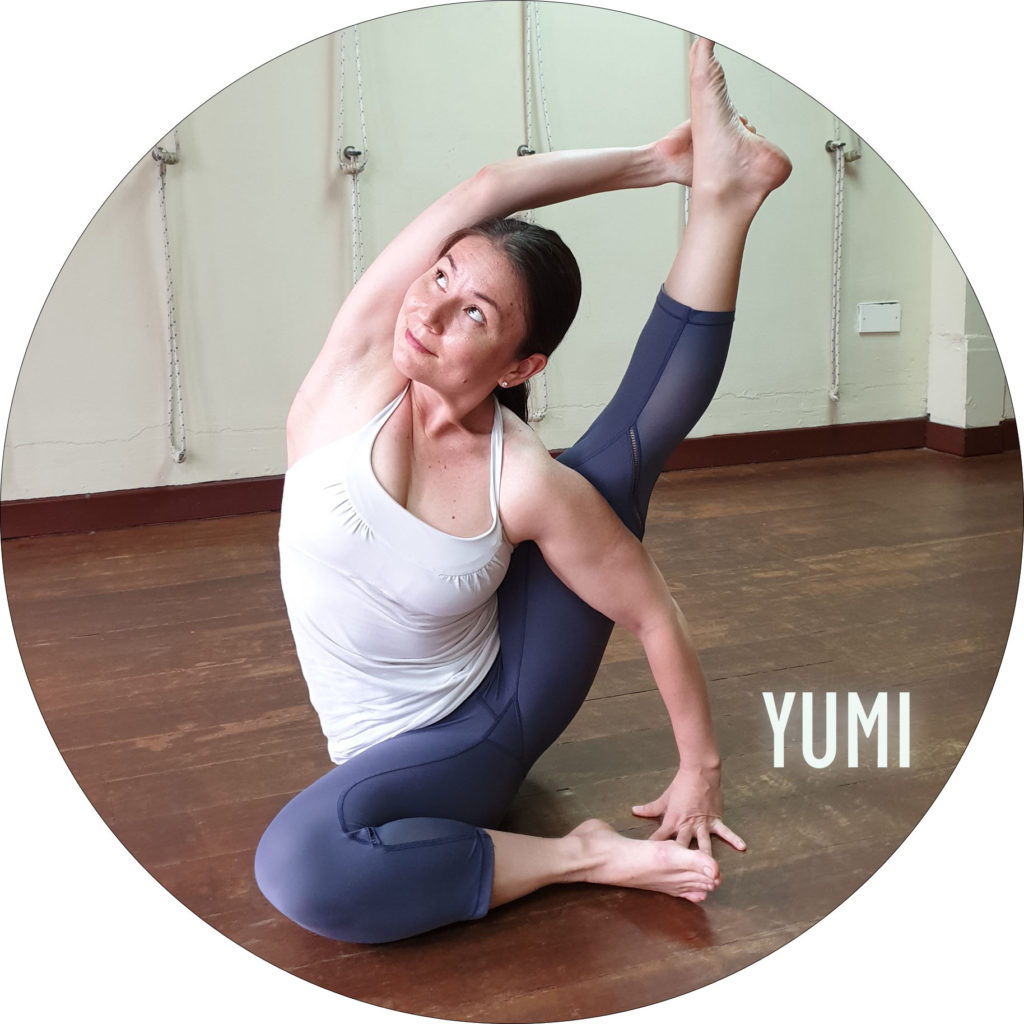 Yumi attended her first yoga class at university and despite finding the stretches agonizing, loved how they made her feel afterwards. Initially drawn to the Ashtanga school of practice, in later years she became increasingly interested in other forms of Hatha Yoga including Iyengar and Sivananda. 
In 2008, she left her job to spend several months traveling around India to learn more about the practices of yoga and meditation and since then she enjoys regularly taking time off to participate in retreats and courses. In 2013 she received her certification from Masters' Yoga Sadhan's inaugural Yoga Teacher Training Course. Since then, she feels privileged to be able to continue to teach under the tutelage of Master Shree and amongst a wonderful community of teachers and students at MYS.
Recommended Reads: 'Old Path White Clouds' by Thich Nhat Hanh; 'Autobiography of a Yogi' by Paramahansa Yogananda