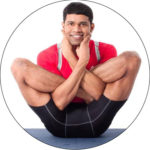 Shree has an exceptional ability to help his students improve in their practice by adjusting their postures and alignment.
He started his career in India where he worked as a Yoga Therapist before progressing on to become a Yoga Trainer. To-date, he has chalked up years of experience with working stints in India, Thailand, Hong Kong and Singapore.
Shree has been awarded Yoga Siromani (Jewel in the Crown of Yoga) and Yoga Acharya (Master of Yoga).

He has also qualified as:
– Certified Yoga Therapist from Sri Venkateswara Naturecure & Yoga Health Center.
– Certified Hatha Yoga Master from Sivananda Yoga Vedanta Centre, Himalayas, India.
– Certified Ashtanga Vinyasa Yoga Master from Sthalam8 Ashtanga Yoga Shala, Mysore, India.
– T.T.C Ashtanga Vinyasa Yoga Philosophy from Master B.N.S. Iyengar. (Disciple of Master T. Krishnamacharya)

Shree has also obtained credentials in various other fields such as Pranic Healing, Naturopathy Therapist, Ayurvedic Massage and Panchakarma Therapist. With his keen interest in the fitness field he is also a certified Muay Thai instructor.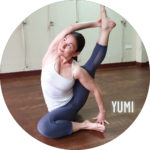 Yumi has been practicing yoga for over 15 years. Initially drawn to the Ashtanga method of practice, in recent years, she has become increasingly interested in other forms of Hatha Yoga. In 2008, she left her job at that time to spend several months traveling around India to learn more about the practices of yoga and meditation. Since then, she has regularly taken time off to participate in novitiate programs and other spiritual retreats – the longest of which was a one year sabbatical as a resident at a meditation centre in Australia.

Upon completing her Yoga Teacher Training Course, she has specialized in teaching Prenatal Yoga, Hatha Yoga, and Vinyasa Styles of Yoga.